Air Force leads to successful career as nurse practitioner for Saltzer Health's Brian Kittelson
11th November, 2020 | Published by Saltzer Health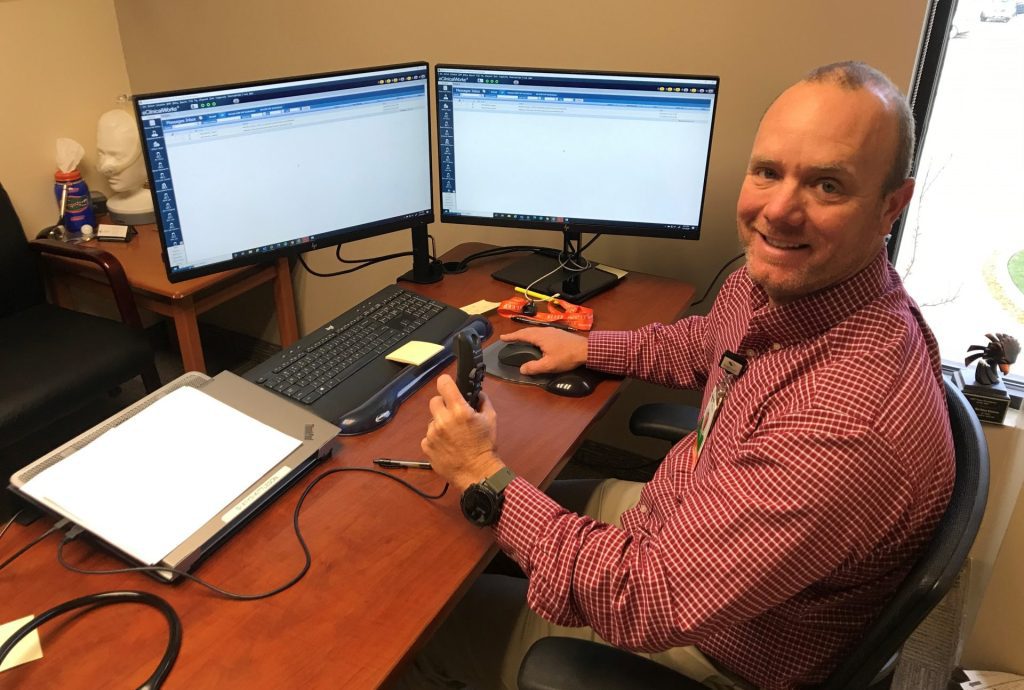 As a high school student, Brian Kittelson loved math. "I blew calculus away," he said.
When it came time for college, Kittelson pursued an ROTC scholarship. The military gave him three options: nursing, aerospace engineering, and math.
Nursing was a natural choice, he says. "My grandmother was a nurse and I talked to her a lot about it."
A four-year nursing scholarship at the University of Florida, led Kittleson to a 22-year military career. He retired as a Lieutenant Colonel from the Air Force Nurse Corps.
Kittelson is now a successful nurse practitioner who provides care for children and adults at Saltzer Health's Sleep Medicine Clinic in South Nampa. 
Thanks to his military experience, he earned a doctor of nursing practice (DNP) degree from Oregon Health Science University in Portland, a master's degree in nursing from the Uniformed Services University of the Health Sciences in Bethesda, MD., and a bachelor's degree in nursing from the University of Florida in Gainesville, FL.
Before joining Saltzer Health, Kittelson served as director of the Doctor of Nursing Practice Phase II Site at Wilford Hall Ambulatory Surgical Center in San Antonio, TX, providing oversight for both Family Nurse Practitioner and Women's Health Nurse Practitioner programs, guiding cohorts of 3-8 Air Force  doctoral students while continuing patient care in the family practice and pediatric settings.
He also held a civilian position as medical provider in a free-standing emergency in the San Antonio community and later worked with Dr. Raymond Hooft as a nurse practitioner at the Idaho Minor Emergency Care and Family Practice in Meridian.
Kittelson moved to Idaho with the Air Force. He was named flight commander/nurse practitioner in the Family Medicine Flight/Clinic with the 366th Medical Group at Mountain Home Air Force Base and deployed as a nurse practitioner to work in a stand-alone/walk-in emergency clinic with the 386th Expeditionary Medical Group in Southwest Asia for 7 months.
He also served as a credentialed provider at the Family Practice Clinic at 81st Medical Group, Keesler Air Force Base in Mississippi, where he was a medical team lead for a 19-person humanitarian mission to Ecuador providing basic health care to rural patients who otherwise had no access to healthcare.  While at Keesler AFB, he augmented his medical experience caring for the civilian population working out of South Mississippi Urgent Care Clinics. 
Kittelson's nursing career has turned out better than he could have dreamed. "I think it's been awesome," he says.
He highly recommends the military to young people who are exploring new career pathways.
"Even if you don't know what you might to do, they give you opportunities to try things," he said.
As a nurse practitioner in the South Nampa Sleep Medicine Clinic, Kittelson is proud to be able to help people of all ages lead healthier lives. "I talk to people every day and develop relationships to help them on their medical journeys. I would never have known that if I'd been an engineer," he says.
To learn more, see saltzerhealth.com.
Highlighted Provider
---