Dr. Wolf talks about how to manage arthritis in feet and ankles
30th May, 2020 | Published by Saltzer Health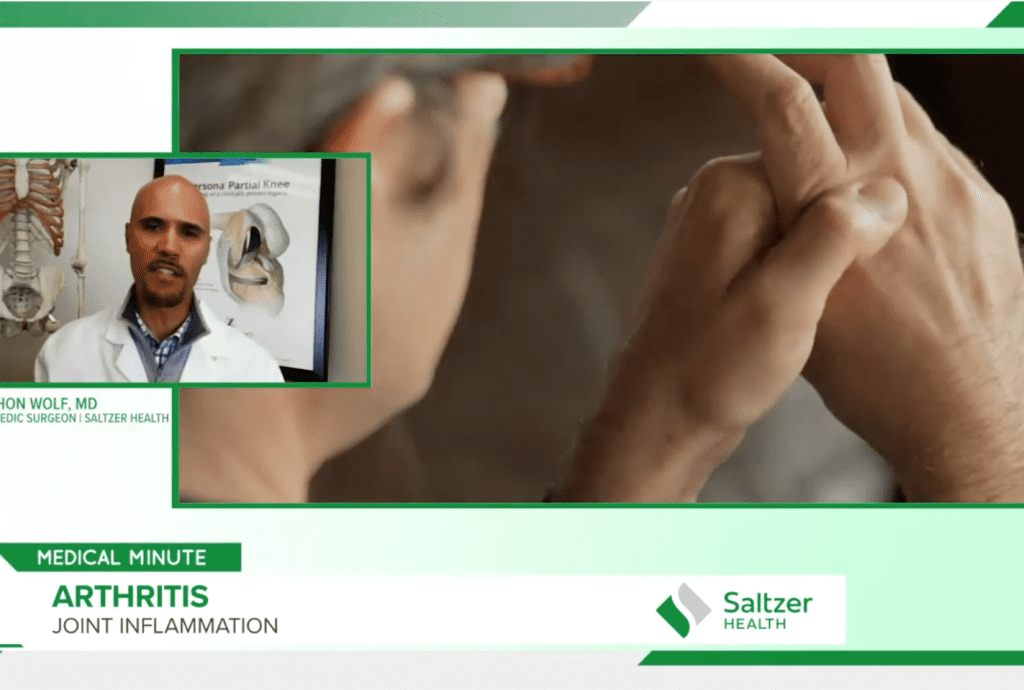 People who live with joint pain, swelling, and damage to joints caused by arthritis can suffer from mobility issues that can severely impact their daily lives.
In this episode of the Saltzer Health Medical Minute, Dr. Jonathan Wolf shares information about arthritis prevention and treatment. Dr. Wolf is an orthopaedic surgeon and fellowship-trained foot and ankle specialist,
"Arthritis is a catch-all term that encompasses any sort of inflammation to a joint," he said. "The most common type of arthritis that patients might be familiar with is osteoarthritis."
He explained four types of arthritis and when they can occur:
Osteoarthritis – "wear-and-tear" arthritis

Rheumatoid arthritis — a form of autoimmune arthritis in which the body attacks its own tissues

Post-traumatic arthritis – after an injury

Septic arthritis — after an infection
 Now that the weather is nicer, more people want to get outdoors and be active. What can they do to manage arthritis?
Dr. Wolf suggested "listen to your body, increase your activity gently, and watch out for signs of arthritis, which can include stiffening joints, swelling and, obviously, pain."
When should someone seek treatment?
"With any kind of painful condition, I would encourage them to seek out care if the pain won't go away or if the symptoms appear to be getting worse or more bothersome." 
There are common treatments for arthritis, including oral medications, topical anti-inflammatories, injections and "conditioning to make sure that your joints and the muscles around them are strong," Dr. Wolf said. 
"If the more conservative things aren't working, then there are treatments that include surgery," he said.
Arthroscopy is a surgical procedure in which a camera is inserted near the joints to inspect them.
Dr. Wolf also explained fusions, which limit mobility of the joint, and joint replacement, including ankle replacement.
To learn more, Dr. Wolf recommends https://saltzerhealth.com/ or talking to a primary care provider. 
Watch the full Medical Minute with Dr. Wolf below:
Highlighted Provider
---