Thank you, Elma Doerksen, RN, for 40 years of service
28th September, 2021 | Published by Saltzer Health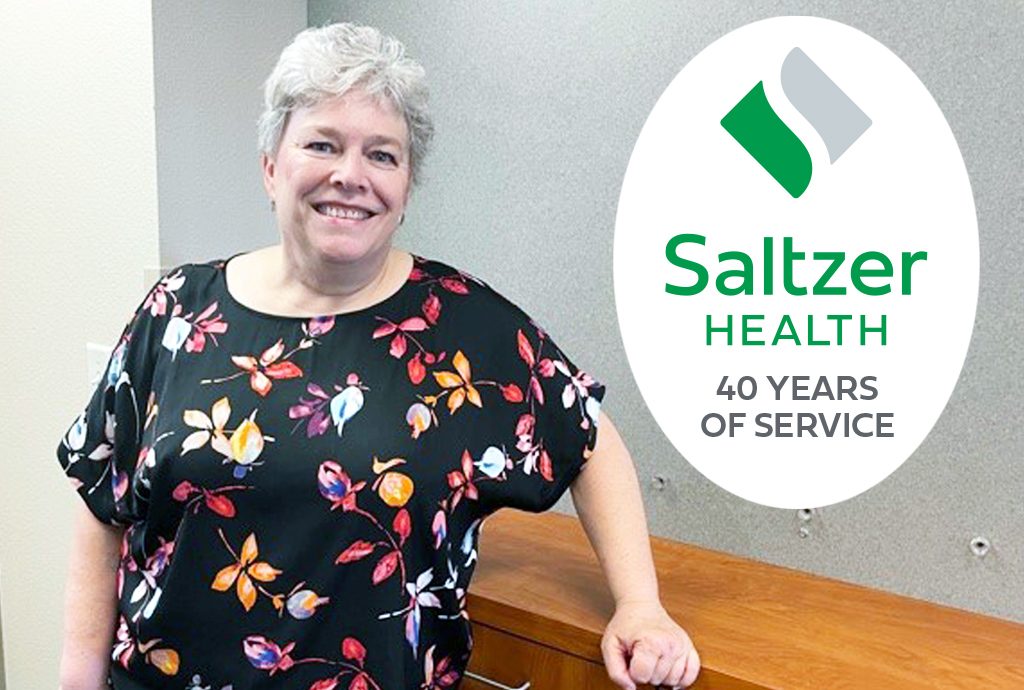 When Elma Doerksen, RN, joined Medical Center Physicians in 1981, all the family practice nurses worked at one desk with paper charts, name tags were not required, and clinical team members were on a first-name basis.
"Change is inevitable," she said, "but you knew every single person who worked here."
Over the years, the organization evolved to become Saltzer Medical Group and then Saltzer Health. Currently, the organization has 11 clinics, 80 primary care and specialty providers, nearly 600 employees, 11 clinics, and a new flagship building in Meridian with a 24-hour urgent care, imaging center, physical therapy and surgery center.
Doerksen, who is retiring in October as a phone triage nurse, has experienced the evolution firsthand.
Her start in the profession was serendipitous. A longtime Nampa resident, Doerksen was inspired by her mother and two older sisters who were nurses. She attended nursing school in a 3-year diploma program at Good Samaritan Hospital in Portland.
"I wanted a job that I enjoyed, that paid my bills and allowed me to do the things I like to do — like travel," said Doerksen. "I knew I would always have a job."
Her first nursing job was working on the night shift on the medical-surgical floor at Mercy Hospital. "I was young and green," Doerksen recalls. "Two fabulous LPNs took me under their wing and helped me grow."
After a few years, she changed jobs and became a primary care nurse for Dr. Kale and then Dr. Hansen.
At the time, there were close ties between Saltzer and the Mercy hospital next door. Many of the physicians made rounds at the hospital before seeing patients in the South Nampa clinic. Several providers, including Drs. Jeff Hansen and Elaine Davidson, delivered babies at the hospital.
Doerksen fondly remembers Dr. Saltzer, a pulmonologist who was born in England and practiced in New York City before moving to Idaho and founding the organization in 1961 with three other physicians. "Most of his patients were older and he always had tea before he saw patients," Doerksen said.
For the last 7-8 years, Doerksen has worked as a triage nurse in family medicine fielding phone calls about prescription refills, symptoms, test results and appointments. She also refers patients to the emergency room or takes callbacks from providers.
Doerksen admits it was an adjustment to shift from in-clinic care to phone triage nursing.
"Initially, I missed interactions with the team and the patients, but I have gotten to know some of the patients with chronic conditions — and that's a nice thing."
Doerksen says the biggest change in her long career has been the evolution of technology. She marvels at the progression from paper charts to computers and then electronic medical records. "Now I can't imagine working without it," she said.
Technology, however, can also be a barrier. "There are advantages, but the computers can prevent eye contact (with patients)," Doerksen said.
After 40 years in the profession, Doerksen still enjoys working in healthcare. She cherishes the relationships developed with generations of patients. "We have seen kids who were babies and are still seeing those families," she said proudly.