Saltzer Health's Eduardo Avendano receives ESGR award for support of National Guard mission
28th March, 2022 | Published by Saltzer Health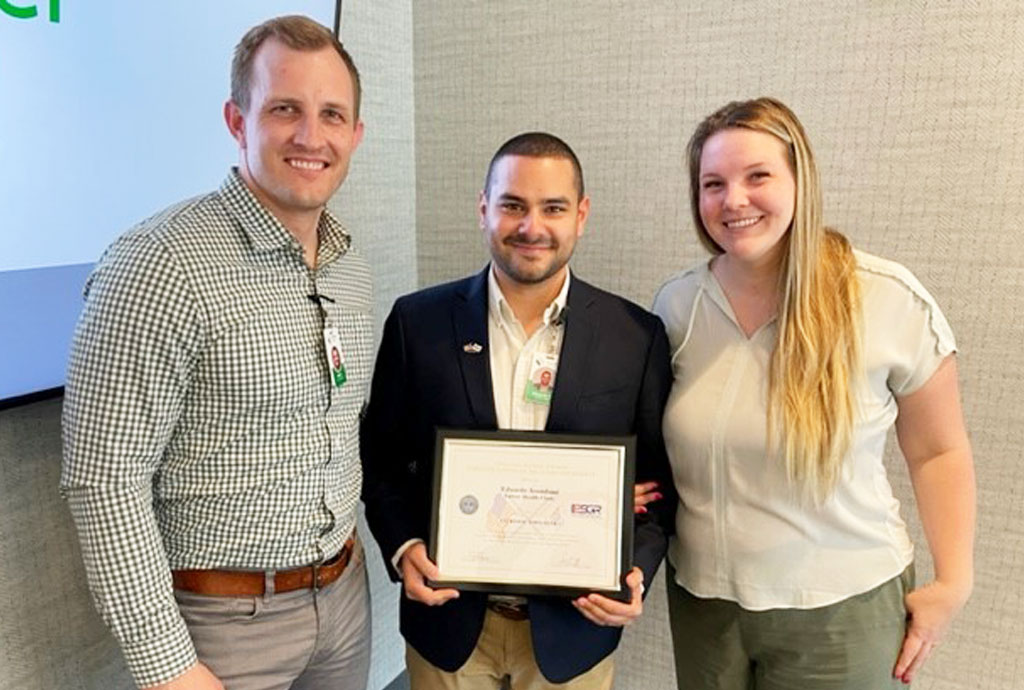 Eduardo Avendano, an Inventory Control Manager in Materials Management at Saltzer Health, was honored to receive a prestigious award for his support of the National Guard mission during a recent COVID surge.
Avendano was nominated for the Employers Support of the Guard and Reserve (ESGR) Patriot Award by Senior Master Sergeant David Oliver. Oliver and Master Sgt. Sean Bryson was deployed to Saltzer Health, where they helped develop a system to distribute COVID supplies and streamline the logistics of samples.
In the nomination, Oliver thanked Avendano for his unwavering support of the mission and for championing both Army and Air Force personnel working in the Saltzer facilities.  When Oliver contracted COVID, he said Avendano checked on him multiple times and offered to help his family in any way possible.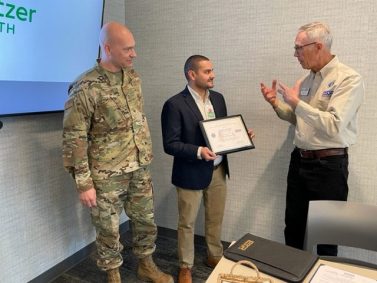 The award was presented on March 24 at a ceremony attended by Saltzer COO Matt Kaiserman, CMO John Kaiser, MD, and Lt. Colonel Kathryn Romano, Idaho Air National Guard, Mission Support Group Deputy. Romano applauded the Saltzer team for their pride in their organization. She acknowledged Oliver for his perseverance with the nomination process. While many service members think that their employers and community partners are great, she said very few take the time to utilize ESGR to recognize them.
ESGR is a U.S. Department of Defense program established in 1972 to promote cooperation and understanding between Reserve Component Service members and their civilian employers and to assist in the resolution of conflicts arising from an employee's military commitment.
Avendano was grateful for the opportunity to work closely with the National Guard.
"It was a phenomenal experience," said Avendano. "Senior Master Sergeant David Oliver and Master Sgt. Sean Bryson are solution-driven. They saw the problem and jotted down some ideas in a way that was patient-driven.
"We were trying to make it a robust logistics plan so that everything would go out in a timely way. We always had the patients in mind so that their results would not be delayed."
Avendano, who was joined by his wife, Hannah, at the ceremony, said he was humbled by the recognition. He praised his team in Materials Management and all Saltzer caregivers for their commitment to meeting the health needs of the community throughout the pandemic.