Saltzer Health Ten Mile Urgent Care clinic helps relieve burden on emergency rooms
1st June, 2022 | Published by Saltzer Health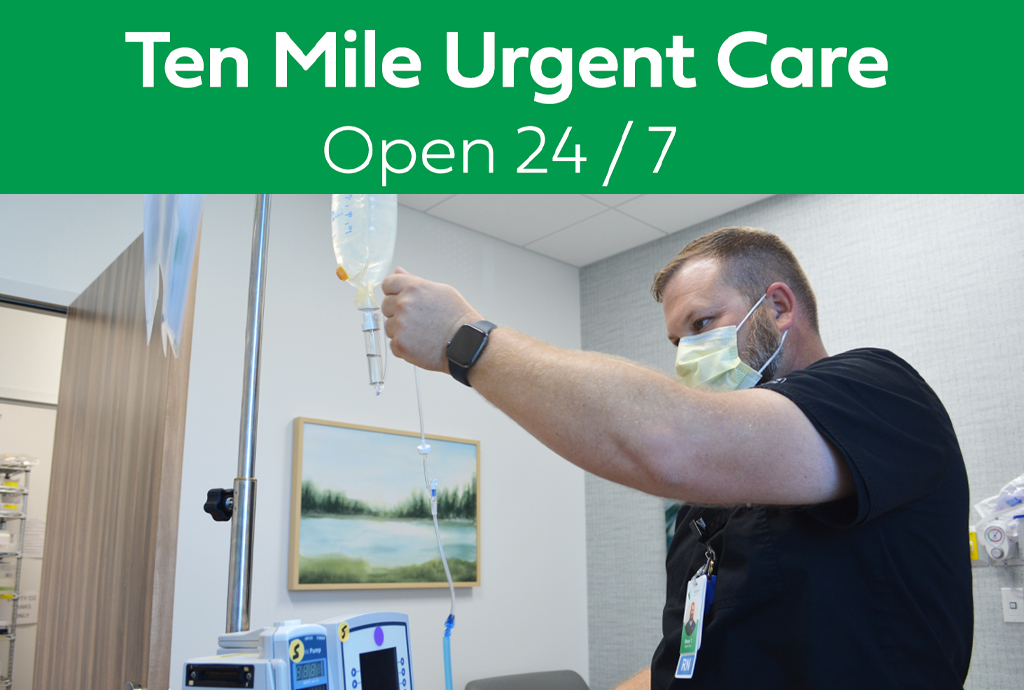 Our lives are busy and when an illness or an injury happens you need care right away. Saltzer Health has urgent care clinics across the Treasure Valley and the only Urgent Care clinic in Idaho that is open 24 hours a day, seven days a week. If you've got a cold, flu, urinary symptom, strains, sprains, fractures, burns, need a sports physical or other non-emergency issues, you can be assessed at urgent care. Urgent care is a great resource for nightshift workers, parents who may need a doctor's note for school the next day and those who are suffering from COVID symptoms and need a test done quickly for work the next day.
At the Ten Mile location, they can also perform IV therapy and other more complex procedures. If you're new to the area, this location is centrally located between Meridian and Nampa, just off I-84. Ten Mile is also the only Urgent Care in the state of Idaho with a CT and Ultrasound on site. CT and X-ray are available 24 hours a day. This location also has a registered nurse on site 24/7 as well as in-house labs with 20-minute results and take-home medications to avoid a trip to the pharmacy.
Our Ten Mile Urgent Care team members have extra training and can provide services beyond typical urgent care. We can treat many medical conditions without an expensive emergency room visit including:
CT scans and ultrasound imaging for appendicitis, diverticulitis, gall bladder, kidney stones, intestinal and other abdominal issues.
Often able to send diagnosed surgical patients directly to surgery, avoiding a costly and timely ER visit.
Orthopedic injuries (fractures, strains and sprains)
Non-emergent breathing issues (croup, RSV, Bronchitis, asthma exacerbations, mild Pneumonia)
Wound care and lacerations requiring sutures
Seasonal illnesses (earaches, allergies, sinus infections, colds, flu, coughs, sore throats)
IV hydration
IV antibiotics
IV anti-nausea medications
IV treatment for vomiting in pregnancy
Urinary Symptoms
Urinary retention (Bladder scan and urinary catheter)
Saltzer Health has clinics located in Boise, Meridian, Nampa and Caldwell. For details about each location click here.
Call Saltzer Health Urgent Care today: 208-463-3000
You should go to an ER or call 911 for any life-threatening conditions such as:
Chest pain
Severe shortness of breath
Dizziness
Severe headache
Open fracture, bone is visible
Stroke-like symptoms (slurred speech, weakness on one side, unable to speak or loss of vision)
These clinics can help relieve the strain on local emergency rooms and help patients avoid what could be a long wait at an emergency room at the same time.
Jonathan Subaitani, lead physician assistant, explains how Saltzer Health Urgent Cares help relieve burden on emergency rooms
Highlighted Provider
---