Meet W. Daniel Bradley, MD
31st December, 2021 | Published by Saltzer Health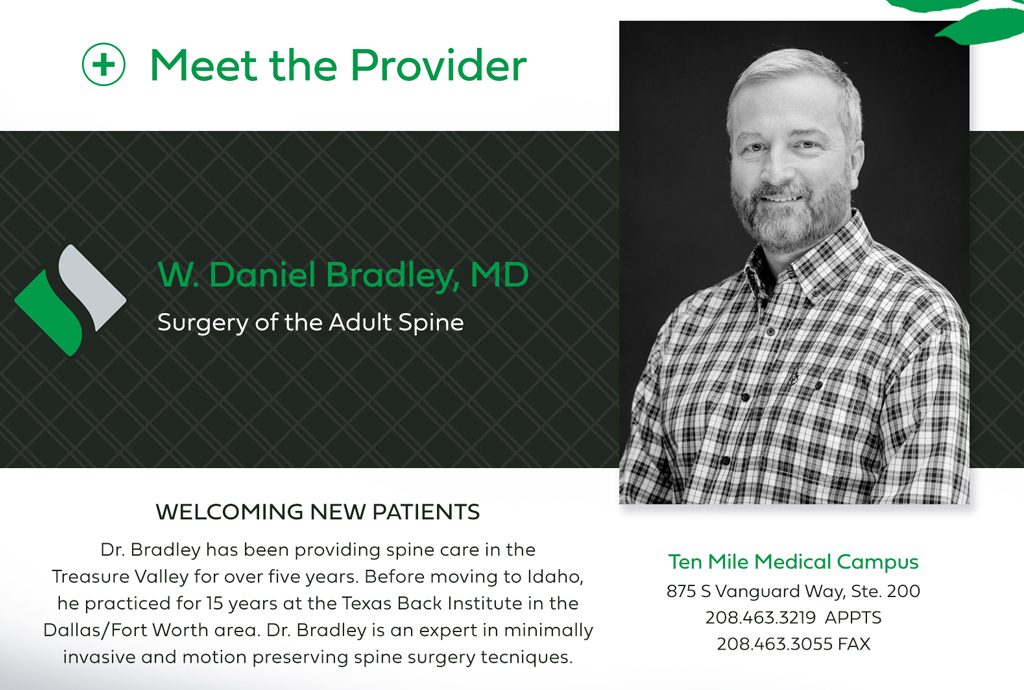 W. Daniel Bradley, M.D., has joined Saltzer Health as a spine surgeon at the Ten Mile Medical Campus at Ten Mile & I-84 in Meridian. Dr. Bradley has been providing spine care in the Treasure Valley for over five years; most recently with Northwest Neurosurgery Associates.
Before moving to Idaho, Bradley practiced for 15 years at The Texas Back Institute in the Dallas/Fort Worth area. He served on the board of governors and as Chief of Staff for North Texas Hospital in Denton, Texas and as Vice Chief of Staff at Forest Park Medical Center in Frisco, Texas.
Dr. Bradley completed his spine surgery fellowship at the Texas Back Institute. He received his medical degree with research honors from Texas Tech University School of Medicine. He completed his orthopedic residency at the University of Kansas Medical Center. His academic career also includes a Jesse H. Jones Research Grant awarded in conjunction with an American Heart Association Research Fellowship. Dr. Bradley earned a bachelor's degree at the University of Texas in Austin.
Throughout his career, Dr. Bradley has been an active researcher who has been published in multiple national publications. Locally, he has given presentations about advanced surgical options and related approaches. A past member of the North American Spine Society's Research Fund and Membership Committees, Dr. Bradley speaks around the world on minimally invasive and motion-preserving spine surgery techniques. He has been a lead investigator on several research studies to advance the field of spine surgery and actively trains other spine surgeons, nurses, and providers.
Dr. Bradley is a Fellow of the American Academy of Orthopedic Surgeons and a Diplomate of the American Board of Orthopedic Surgery specializing in surgery of the spine.
See Profile Page: Dr Bradley
TO SCHEDULE AN APPOINTMENT:
208.463.3219 APPTS
208.463.3055 FAX
Highlighted Provider
---