Meet Megan Painter, RN, urgent care coordinator
3rd April, 2022 | Published by Saltzer Health | By Chloe Shingler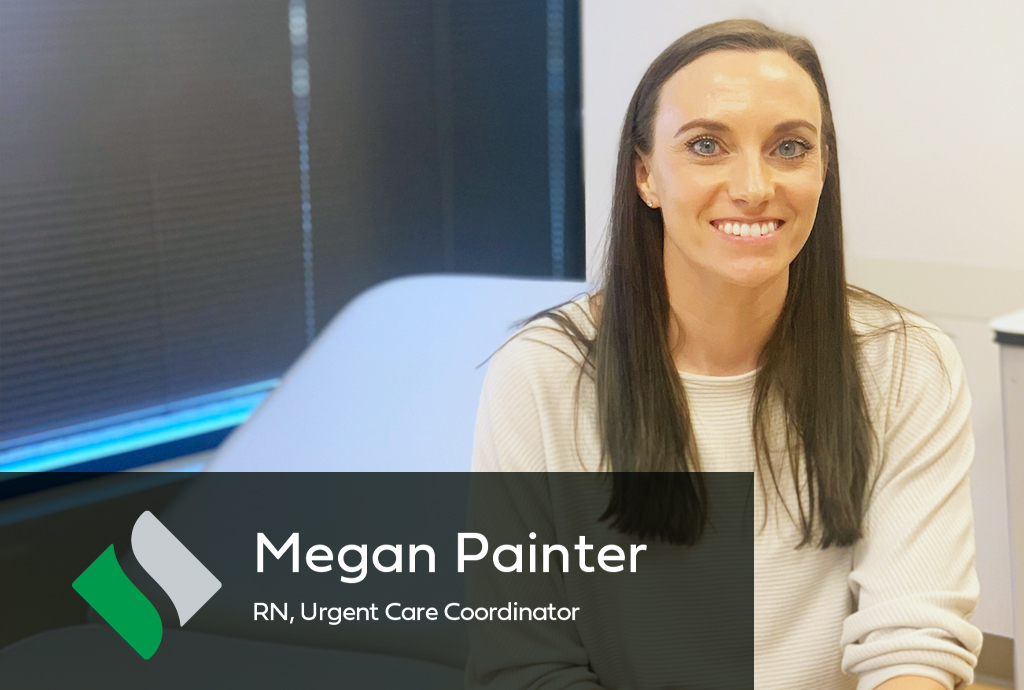 Registered Nurse Megan Painter is a self-diagnosed "adrenaline junkie." A registered nurse and Clinical Coordinator 1 at Saltzer Health's Caldwell Urgent care, Painter grew up in Montana where she developed a passion for the outdoors. Later she worked as a wildland firefighter for the United States Forest Service rappelling from helicopters in Idaho's Frank Church River of No Return Wilderness Area.
After fighting fires for six years, Megan completed EMS training and then pursued a degree in nursing. She eventually received a bachelor's in nursing and worked for nine years in emergency rooms throughout the Treasure Valley before joining Saltzer Health, an Intermountain Healthcare company.
She was drawn to Saltzer after seeing countless patients in emergency rooms, knowing that for many of them this one visit could bind them financially. Megan wanted to see change. She was inspired by Saltzer's goal to make healthcare affordable.
"Saltzer and Intermountain are geared toward patient cost savings and the patient experience. In the year and a half that I have worked for Saltzer, I have seen how they are looking to save the patient money and make healthcare as affordable as possible — at a time when it is really hard to do that."
She has found her work in the urgent care setting to be incredibly fulfilling. "Realizing that you are caring for the same population and that maybe you can intervene before they need to be in an emergency department," she said. "We are actually doing patients a really big service. Maybe we can save them some of that chaos and financial burden."
As Clinic Coordinator 1 at Caldwell Urgent Care, Megan continues to use her emergency medicine skills and provide excellent patient care, while also leading and mentoring a team. She works hard to help her staff reach individual career goals and give them opportunities through meaningful check-ins.
Megan's emphasis on team-building translates into better patient care. "Saltzer does a good job at prioritizing the connection between their employees and it allows for people to receive the best care possible," she said.
While she is focused on her job at Saltzer, Megan continues to find ways to use her skills in emergency medicine through volunteer positions with international medical relief organizations such as Team Rubicon. Team Rubicon's mission is to provide disaster relied and medical relief aid by pairing military veterans with first responders, medical professionals, and technology solutions. Megan calls this her "passion work" and has found so many different ways to care for people who need it most.
On her days off, Megan makes sure to prioritize a healthy work-life balance. She enjoys adventuring outdoors and recently started river surfing. She also loves mountaineering, backpacking, trail running, fly-fishing, and skiing. If you catch her out in the wild, you may see her adventure buddy by her side — her 3-year-old daughter who skis, hikes, and explores Idaho with her mom whenever possible.
Professionally, Megan remains vigilant about helping patients live their healthiest lives. "I think it's important to shift our focus in healthcare away from the old paradigm of thinking that a person looks a certain way to be considered healthy. I think it's more important to maximize their capacity and ensure that they are able to keep doing the activities they like to, anything that keeps their quality of life high and monopolize on that for as long as possible."