Meet Lisa Sanchez, Director of Nursing, Saltzer Gastro Center
11th August, 2022 | Published by Saltzer Health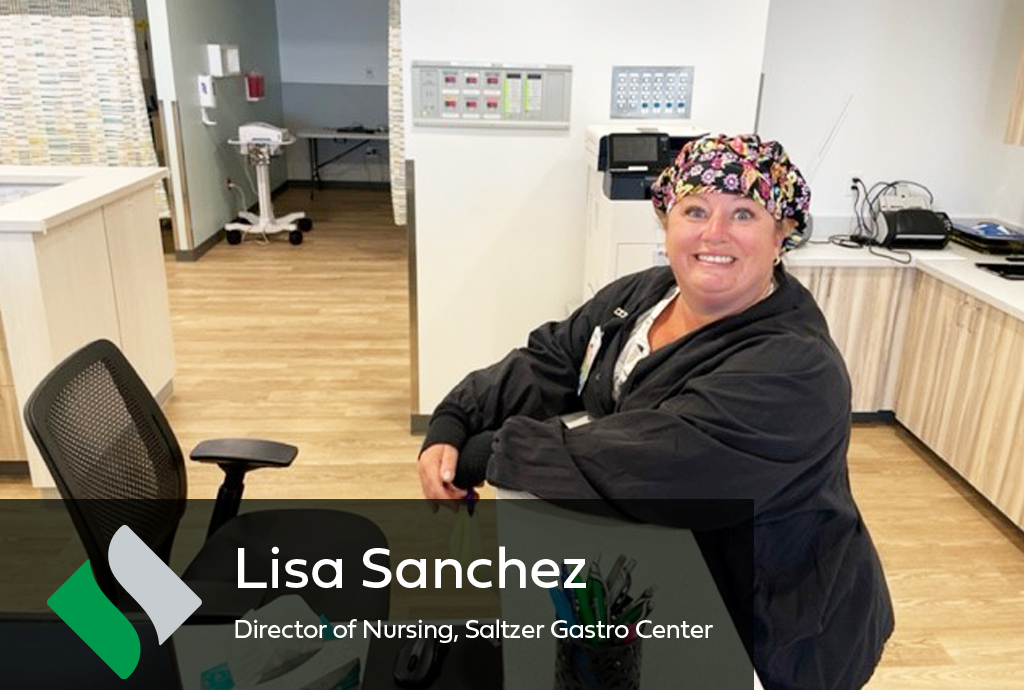 Lisa Sanchez knew she wanted to be a nurse while caring for her great grandma after a stroke in 1996. The time they spent together helped Lisa realize the value in caring for others and how it feels to be of service.
Lisa later went to college and became a registered nurse. She works now as the GI/Endoscopy Director of Nursing at Saltzer's Gastro Center where she has helped provide hundreds of patients with potentially life-saving gastroenterology procedures.
She enjoys making connections with her patients.
"I love to learn about other people's stories and use that information to make their experiences better," she says. "I love the opportunity to turn a potentially negative experience into a positive one."
At the Gastro Center, Lisa oversees pre-operative, post-operative, and intraoperative care for patients at the Ten Mile Medical Center in Meridian. She implements facility protocols and ensues regulatory compliance within the department as well as monitoring supplies and logistics for the department. Her day-to-day tasks include ensuring prompt scheduling for patients, assist with staffing needs, and making sure that treatment plans are completed.
Since joining Saltzer Health in 2014, she has also worked as an RN for same-day walk-in patients in the urgent care clinic.
Lisa earned a Bachelor's of Science in Nursing from Western Governors University and an associate's degree in nursing from Treasure Valley Community College. In 2021, she received the prestigious  Nursing Excellence Leader Award from Intermountain/Saltzer.
She cherishes the relationships she builds with her patients and fellow caregivers.
"I like to take care of people who have a connection in the community," Lisa says. Her family, which is deeply rooted in Idaho, continues to operate a Century Farm (100+ years old) just west of Lake Lowell in Canyon County. Lisa, her husband and their two teen-age kids live in a house on the farm within walking distance of her parents, sister and one of her husband's brothers and their families. Every Saturday and Sunday morning, they get together to visit over cups of coffee.
In her free time, Lisa also enjoys traveling, reading, cooking, and paddleboarding.
Lisa enjoys her work and her team at the Gastro Center. Even after four years working in gastroenterology, she is still learning new things. And she is energized by the opportunity to improve the health of her patients. "We have the opportunity to take care of a lot of people in ways that can positively affect their lives," says Lisa. "It is so cool to be able to prevent cancer through colonoscopies."