Meet Andrea Gentry, LPN
26th August, 2021 | Published by Saltzer Health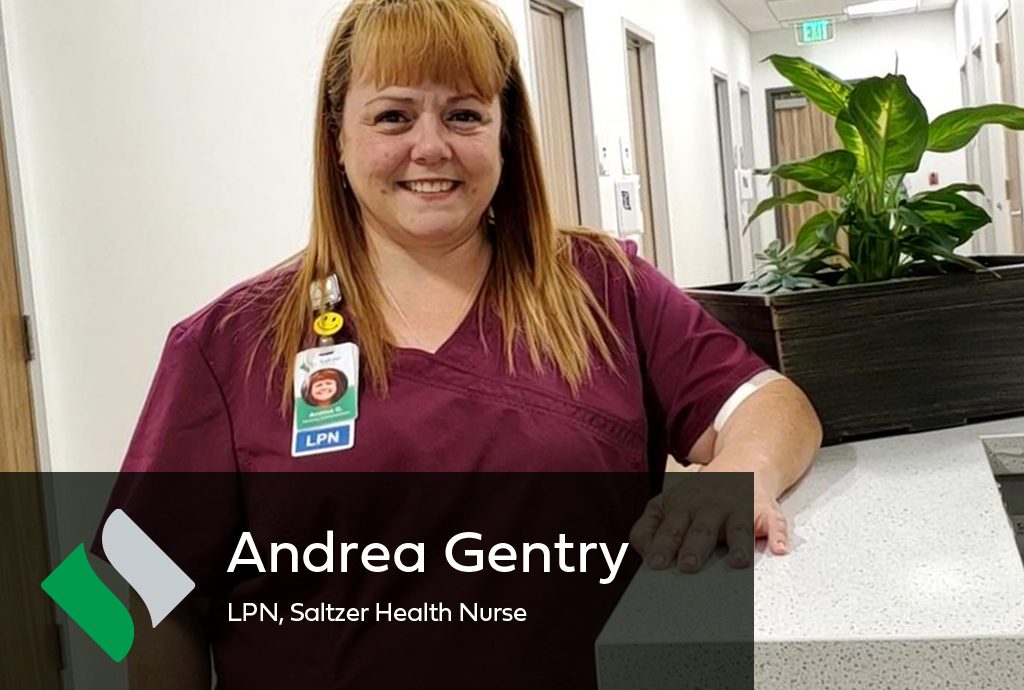 Longtime Saltzer Health nurse Andrea Gentry has happily joined the team at the new Gastroenterology clinic at the Ten Mile Medical Campus. Her diverse career has taken her from manufacturing to multiple roles in healthcare where she enjoys helping and interacting with Saltzer Health patients.
In her early work life, Andrea worked in manufacturing and later training and development at HP. Later she moved into HR benefits and compensation at HP and Jabil Circuit.
During an economic downturn in early 2000, Andrea returned to school in her 30s with 2 babies and a 3rd on the way. Completed an LPN at Boise State's nursing school.
After completing LPN training, she began her nursing career at Mercy Medical Center on the Med/Surg 3rd floor, then worked at Idaho Urologic Institute, Primary Health, and in a skilled nursing facility.
Ultimately, Andrea "found her way back home" to Saltzer working with many of the providers who previously "rounded" at Mercy.
Upon joining Saltzer seven years ago, she worked as a triage nurse at the South Nampa family medicine clinic for Drs. Elaine Davidson, Jon Hlavinka, and John Freeman. "It felt comfortable."
Later she was named assistant nursing director and ran the float pool to cover call-ins and supervised cross-training and helped onboard new team members in New Employee Orientation.
In her new role as the GI clinic nurse, she processes referrals, answers patient questions, and completes procedure risk assessments where she evaluates patients by reviewing their medications, history (social, family, surgical, medical) to assess if they are scheduled inappropriate setting (hospital vs surgical center) and determines what prep the patient should use.
Andrea also educates patients about the medications they need to stop and when (blood thinners, diabetic meds) and diet changes that need to be made during the week prior to EGD or colonoscopy.
Her new role is a great fit for Andrea. "I have an investigative spirit and I like to figure things out," she said. "And I love talking to patients. It's rewarding to know you can help others."