In Her Own Words: Annicka Richardson, Certified Sterile Processing Technician, Saltzer Surgery Center
26th May, 2021 | Published by Saltzer Health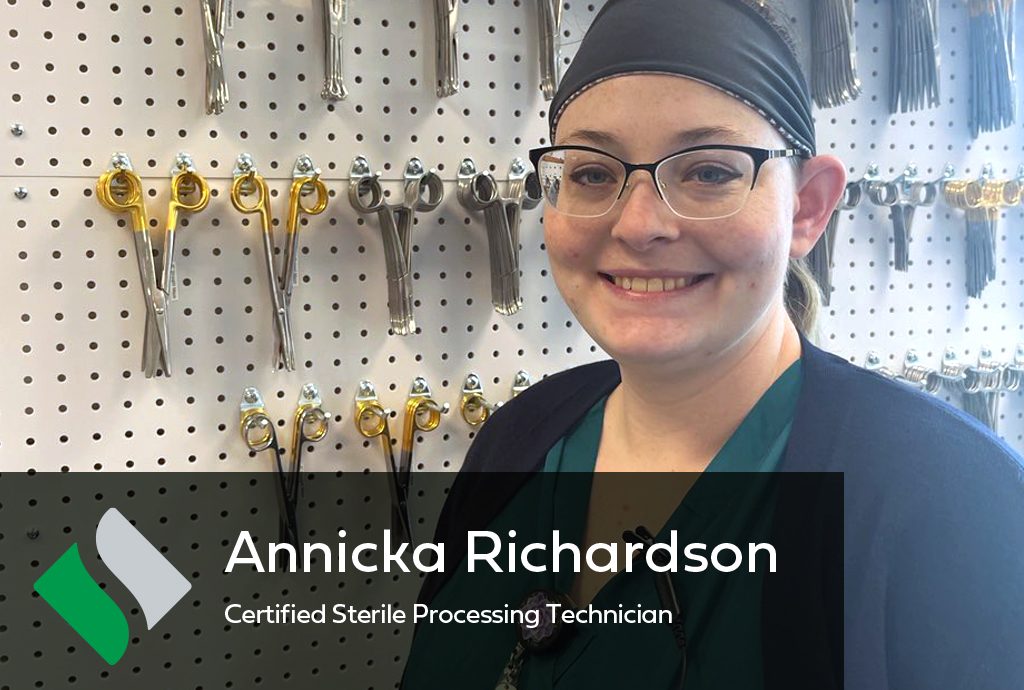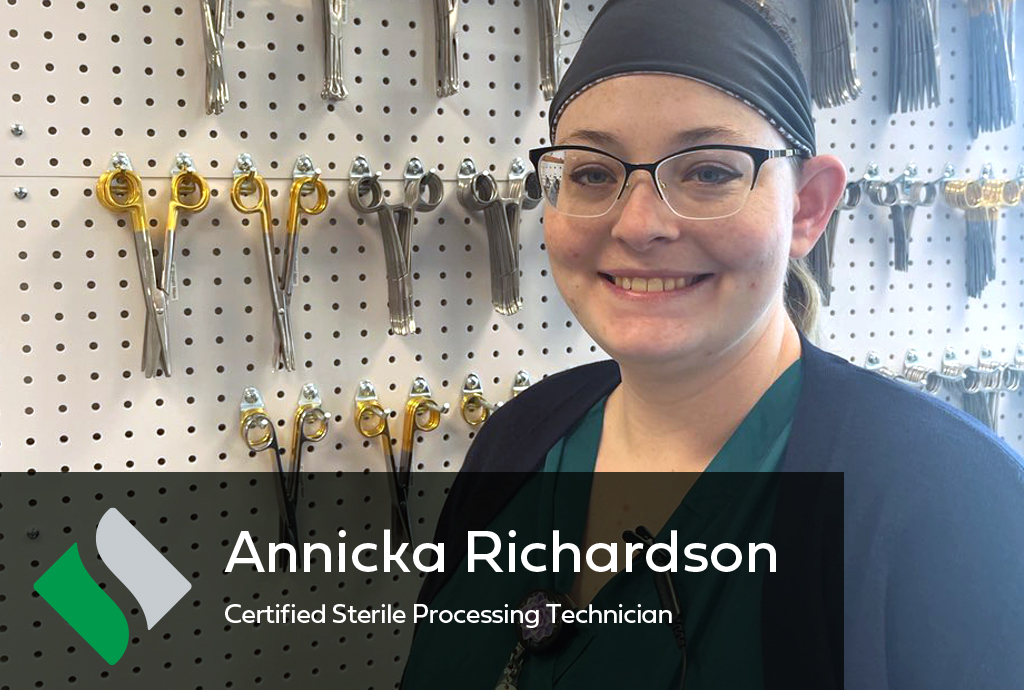 Could you describe your job?
I clean and sterilize surgical instrumentation. I take the scissors, knife handles, all of the clamps, and all of the tweezers — we call them forceps — and I disinfect them after surgery. I disinfect them through our washers, disinfectors, and various other mechanical means. I then put them through sterilization so that they are ready to be used once again for another patient. There is so much more to it than that. That's a very, very basic description.
I use everything from steam to vaporized hydrogen peroxide to sterilize (instruments). It's a very unknown and underappreciated — I don't want to say artform — but it's an unappreciated field for sure.
What is your background?
I have been doing sterile processing for about seven years. I started in Utah at McKay-Dee Hospital, which is an Intermountain Healthcare facility.
I was going into nursing at the time, but I was struggling through college. I had just gotten married, and I was pregnant with my first child. I found sterile processing and fell in love with it. I love behind-the-scenes stuff anyway — and it doesn't get much more behind the scenes than this.
Nobody really thinks about where the scissors come from. They are just there for surgery, right? So, it was really fascinating to me.
My husband and I, a couple years later, moved back to Boise. I grew up in the area, so we moved back with my parents.
I started working at St. Luke's in Meridian, and they encouraged me to learn so much more. I started getting more certifications. I started getting more education. I started going to seminars looking into it. I've spent seven years learning everything I can, and there's always something new to learn. It's medicine, constantly evolving.
I love learning all about it, learning how the instrumentation is used, and understanding the surgeries.
And eventually, I ended up here, and I'm loving it.
How did you get into healthcare?
When I was about 9-10 years old, I was diagnosed with diabetes. The nurses and CNAs who cared for me we really inspiring. Most people don't find their callings at 9 years old, but I certainly did.
I remember their names because they were that great. I can't see their faces so much anymore, it's been like 20 years, but I remember their names.
I remember drawing pictures and wanting to give thank you cards to them because it was so cool. After that I said I wanted to be a nurse. I'm going to go into medicine. I'm going to be a nurse.
As I started going into nursing, I asked myself if I wanted to specialize in something. I got into CS (central service technician) and I started to think about surgical stuff, and how I wanted to do this or that. Eventually, I realized that I am not cut out for college, and I am not a good student. I can't focus on it. If it doesn't capture my attention, it doesn't stick. So, I decided to stick with CS, and I've been pursuing that for about 5.5 years. I've just been diligently going after sterile processing, and loving every  minute of it, learning everything.
It had been my dream for a while to be part of opening up and putting together a new OR, and bringing best practices into sterile processing from the very beginning.
What interested you in joining Saltzer Health — and specifically the surgery center?
Originally it was trying to find full-time work. I was flex-time, which is "as needed," and I needed full-time work. My husband is a full-time student and I can't support a family of 4 like that.
I was looking for full-time work, and when I interviewed with Saltzer Health back in November, they were describing it to me, and everything that they were saying was making me so excited.
It's been my dream to build from the ground up and making something mine and make something perfect. Because I came into Saltzer Health and learned more about it, the goals and the mission of overall healthcare is exactly what I want.
As my team has grown, it's become a team. It's not my department, it's ours. It's a wonderful feeling to know that it's not all on me. I have a wonderful team with my co-worker Milla. And I have a wonderful team with all of the nurses and techs, and my leadership. They may not know how to help me, but they definitely know how to find the help for me. I
t's amazing that I have so many people to rely on. It's very different form places that I have been before. It's a joy to come to work now.
What else do you want to share about your work?
Sterile processing is so underrated, and so unknown. I have made it a goal of mine to bring it more to the forefront. It is the backbone of the OR. If there were no sterile instruments, then there would be no surgery.
As I have mentioned before, people don't think where the instruments come from. Even the doctors I've worked with don't even realize what we have to put this stuff through to get it on the table. It just appears.
People don't realize, and especially a patient who doesn't have an understanding of the OR anyway, that there is so much that goes on behind the scenes. It takes up to 12 hours for us to put one set through from decontamination to sterile. It can take a long time. If you've got drying times and depending on what the instrument is and how big your instrument set is, it can take a long time to get those through, to get them ready, and sterile, and complete for the surgeon's use.