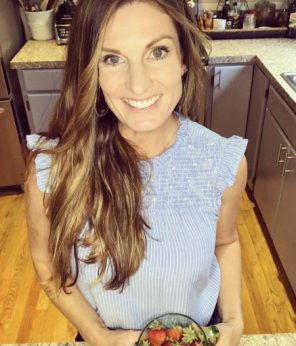 Pohley Richey is a positive promoter of joyful, healthy eating. She is a registered, licensed dietitian, personal trainer and health coach with 20 years of experience in nutrition and wellness. Pohley specializes in customized nutrition coaching to meet her client's individualized needs, helping them achieve their maximum wellness potential.
Pohley's passion is translating nutrition science into achievable, palatable, nutrition strategies focusing on the healthiest whole, natural foods to fuel, repair and heal. Pohley utilizes her background as a culinary instructor to introduce healthy cooking and meal planning to her clients. Through conversation and hands-on classes, she guides clients to identify barriers and challenges to success and provides tactics to modify unhealthy behaviors.
Pohley utilizes behavior change counseling and positive reinforcement to help clients achieve their goals in sports training, health improvement, weight management, and improving risk and outcomes for many chronic diseases including diabetes/pre-diabetes, heart disease and high blood pressure.
In her spare time, she is always moving – you might find her running, hiking, biking, training, Spartan racing, playing outside with her two kids or cooking up new tasty recipes!