RSV GRACE Study Conducted by Saltzer Research
23rd August, 2021 | Published by Saltzer Health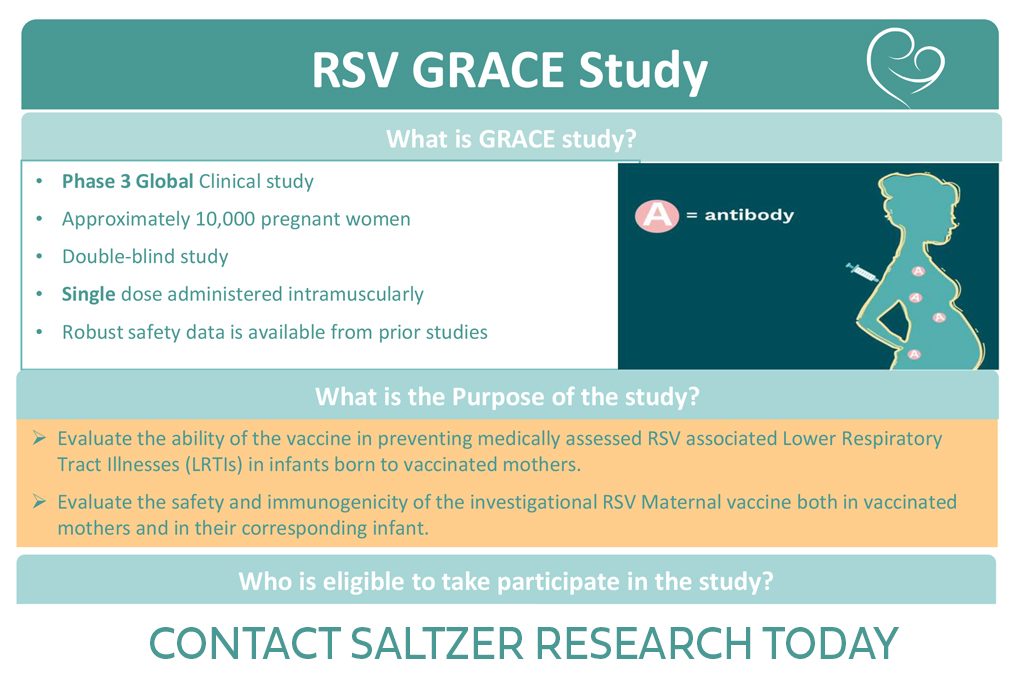 What is RSV?
Enveloped single-strand RNA pneumovirus within the Paramyxoviridae family
– 2 main subgroups: A/B – antigenically related
In temperate climates, annual epidemics occur during winter
Circulation overlaps with seasonal influenza
Most common cause of ALRI in children <5 years, and a major cause of ALRI-associated hospitalisation
Who is most at risk of RSV?
Almost all children will have experienced an RSV infection by 2 years of age
Very young infants have the greatest risk of severe illness caused by RSV
The highest priority target population is the RSV-naïve child
There is currently no specific treatment or currently approved vaccine. The development of effective new vaccines … to tackle RSV have the potential to make major contributions to reducing severe disease and deaths from RSV in children globally.
What is GRACE study?
Phase 3 Global Clinical study
Approximately 10,000 pregnant women
Double-blind study
Single dose administered intramuscularly
Robust safety data is available from prior studies
What is the Purpose of the study?
Evaluate the ability of the vaccine in preventing medically assessed RSV associated Lower Respiratory Tract Illnesses (LRTIs) in infants born to vaccinated mothers.
Evaluate the safety and immunogenicity of the investigational RSV Maternal vaccine both in vaccinated mothers and in their corresponding infant.
Who is eligible to take participate in the study?
LEARN MORE: https://saltzerhealth.com/gsk-grace-maternal-rsv/