BEXSERO Meningitis B Vaccine Clinical Study in Infants
Meet the Martin family.
The need for research studies
Skip to Research Participation Contact Form
There are thousands of clinical studies being done all over the world. These studies represent millions of people dedicated to one shared goal to help us all have longer healthier lives. Although the results of studies are not guaranteed, what we learned during the journey of research may help us discover new medical options and the journey begins here with informed volunteers like you. Study volunteers are essential to helping doctors and scientists answer important questions about potential new ways of preventing treating and diagnosing disease. Researchers answer these questions in a series of steps or phases which follow strict rules to help monitor the safety of volunteers. A new vaccine is approved for use only after it is proven to be safe and effective with it's possible benefits outweighing it's possible risks. If a vaccine is approved then doctors can recommend it to people like you and that's how together we advance our knowledge of medicine now and in our future.
The Meningitis B Vaccine Clinical Study in Infants
Meet the Martin family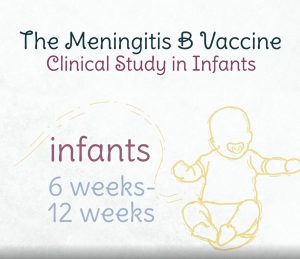 The Martins know about meningitis B. They understand that it's an uncommon but serious disease that causes an infection in the brain and spinal cord and they know meningitis germs spread through close personal contact such as kissing, coughing and sneezing. That's why the Martins follow their doctor's advice for their two teenagers to receive one of the approved meningitis B vaccines. Lucy Martin is expecting her third child soon. When her doctor explains that infants have a higher risk of getting meningitis Lucy is concerned. Her doctor says there is no meningitis B vaccine currently approved in the United States for children from birth through nine years of age. Then her doctor tells her about a clinical study. The meningitis B vaccine clinical study in infants. In this study doctors and researchers want to learn more about how well the study vaccine works against the meningitis B germ in infants. The study is enrolling infants who are between the ages of six weeks and twelve weeks. Lucy may be interested in joining the study when her baby is born but she has questions. In a process called informed consent the study team explains the expectations of joining the study and discusses the possible risks and benefits. Although no research is risk-free and positive results are not guaranteed Lucy talks to her doctor and understands that her questions will always be answered at every step of the way. Thanks to families like the Martins what we learn in the Journey of research may help us prevent disease among babies. The Journey Begins here. If you are interested in learning more about the study please visit our website and talk with your doctor.
Request to participate in research study.
Research Participation Form
"*" indicates required fields
Saltzer Clinical Research is offered in:
---